FEDERATION OF AUTONOMOUS PRIORIES
OF THE SOVEREIGN ORDER OF SAINT JOHN OF JERUSALEM
KNIGHTS OF MALTA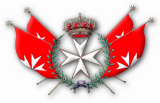 Government of the State
CABINET OF THE GRAND MASTER AND HEAD OF THE STATE
ANNOUNCEMENT
On the 17th of December 2012, by initiative and proposal of the Government of Hungary, the General Assembly of the United Nations has unanimously decided to designate September 5th as the International Day of Charity. This date has a very special meaning since this was the day on which Venerable Mother Theresa of Calcutta – Nobel Peace Prize – passed away.
The UN General Assembly has invited all to commemorate this International Day of Charity by encouraging Charity, including through education and public awareness-rising activities, in harmony with the Universal Declaration of the Human Rights.
The Magisterial House and the Government of the State of the Sovereign Order of Saint John of Jerusalem – Knights of Malta, (KMFAP) – Federation of the Autonomous Priories wishes to warmly congratulate the Government of the Republic of Hungary for having taken such a noble and humanitarian initiative, which had the very rare merit of uniting all the different nations, from different cultural backgrounds and religions, in an unanimous decision for the benefice of all the Human beings. This is not only a very rare and very positive step towards a better dialogue and understanding between nations, therefore a serious contribution for Peace and Tolerance, but this is also a demonstration of social concern with the needy.
Since this Federation (KMFAP) strictly abides by the Universal Declaration of the Human Rights of the United Nations and having taken into consideration the main mission of our Sovereign Order and State, the Magisterial House has the pleasure of hereby informing that from now on, every year, the 5th day of the month of September will be celebrated as the second most important National Festivity of the Federation (KMFAP), after the 24th of June, which is the day of St. John and National day of this Federation.
Magisterial House, on the 16th of January of 2013
The Prince Grand Master and Head of the State