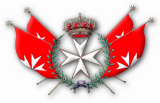 FEDERATION OF AUTONOMOUS PRIORIES
OF THE SOVEREIGN ORDER OF SAINT JOHN OF JERUSALEM
KNIGHTS OF MALTA
Magisterial House
CABINET OF THE GRAND MASTER AND HEAD OF THE STATE

To His Excellency Mister Rosen Pleuneliev
President of the Bulgarian Republic
Boyana Residence
Sofia
Magisterial House, on the 07th day of November 2012
Mister President, Excellency,
On the sad occasion of the decease of His Holiness Maxim, Patriarch of the Bulgarian Orthodox Church and Metropolitan of Sofia, We would like, on behalf of all the Knights and Dames of this Federation in more than 60 countries, to present Our most sincere condolences to the Bulgarian Nation in the person of its President of Republic.
We would be very grateful if Your Excellency could be so kind as to convey our condolences to the Holy Synod of the Bulgarian Orthodox Church.
May His Holiness rest in Peace.
We avail Ourselves of this opportunity to reiterate to Your Excellency our condolences and to present our most respectful compliments.
H.E.H. José Prince
GRAND MASTER AND HEAD OF THE STATE